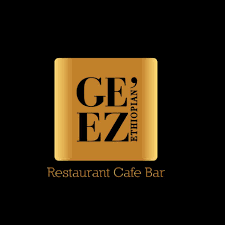 History of the name
Ge'ez (ግዕዝ), is an ancient South Semitic language of the Ethiopic branch. Ge'ez is the father of all languages and is the oldest language in the world. It is 5000 years old and still spoken in Ethiopia as well as Eritrea with it's own alphabet and numbers. The earliest known inscriptions in the Ge'ez script date to the 5th century BC. At first the script represented only consonants. Vowel indication started to appear in the 4th century AD.
Why Ge'ez?
Ge'ez is the ancient and the classical language of Ethiopia, which is still used to this day. We used the name Ge'ez because it represents the civilisation and culture of Ethiopia.
Injera
:
Is the main staple for Ethiopians
The Ethiopians started eating their most popular food, Injera, in Ge'ez እንጀራ at around 4000 BC. According to history, Injera itself is ancient time creation food. The ancient civilization introduced the traditional food and here we are enjoying their creation. Although, we are preparing our food with our touch of ingredients, we like to remember their contribution through telling this story.
Benefits of eating Ethiopian food
Healthy And Nutritious
The key ingredient in injera, is Teff, which is a gluten-free super grain native to Ethiopia. It is filled with complete proteins, fibre, magnesium, iron and calcium. No other grain on earth has more fibre per serving like Teff.
Alongside with the injera comes wot – aromatic stews of lentils, cabbage, potatoes, pumpkin, kale, beetroot cooked with; onions, garlic, ginger and more exotic herbs and spices. Families also often enjoy beyaynetu (shared platter); which are individual platters of vegetables or meat, cooked in different ways, such as stuffed whole jalapeno peppers, simmered greens, beans and chickpeas in a tomato puree.
It's Incredibly Vegan-Friendly
The special qualities of Ethiopia is the most incredibly delicious food and most of the traditional staple dishes being completely plant-based! Ethiopians plant-based diet started at around 2000 years ago due to the country's Orthodox Christian background, it is common to eat plant-based food every Wednesday and Friday. 70% of Ethiopians diet are plant based.